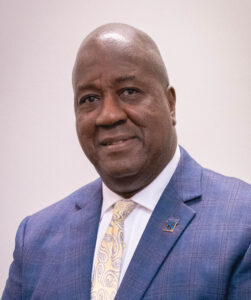 Robert Morris, Jr.
2023 Division 2 Vice President
Robert Morris graduated from Middle Tennessee State University with a Bachelor of Science degree. He entered real estate in 1985 and has been actively involved in real estate sales and training since that time. He is a selling broker with Parks Realty, located in Middle Tennessee, where he actively lists and sells real estate with his team. Robert has been honored as the REALTOR® of the Year in 2000. He recently received the 2021 Tennessee REALTORS® Educator of the Year award, his second time (1995) to receive this award in his career. Robert has been chosen as one of Tennessee REALTORS(s) District Vice-Presidents for 2022-2023. He has served on several local associations' Board of Directors and just finished serving a 2020-2021 term as President of the Middle Tennessee Association of REALTORS®. Robert has been accepted as a candidate into the 2022 NAR Leadership Academy class and will serve as a NAR Director from Tennessee REALTORS® for 2022-2024. He also has been appointed to the Board of Directors of the Real Estate Business Institute (rebi) for 2022-2023 as well as selected to the Learning Experiences committee for 2022. Robert will also serve on NAR's Professional Development (2022) and Housing Opportunities (2022-2023) committees as well.
Robert is an international speaker, certified instructor and consultant who holds several professional designations/ certifications just to name a few, the Certified Residential Specialist (CRS), Certified Real Estate Brokerage Manager (CRB), Internet Professional (e-PRO), Accredited Buyer Representative (ABR), Real Estate Negotiation Expert (RENE), Seller Representative Specialist (SRS), the Graduate, REALTOR® Institute (GRI), and the Performance Management Network (PMN) designation for the Women's Council of REALTORS®. He is also certified by the Instructor's Training Institute (ITI). He has conducted seminars, training workshops and leadership conferences for countless numbers of REALTORS®, boards, conventions and associations throughout the continental US, Hawaii, Alaska, Canada, Puerto Rico, and the British West Indies. Robert is a Certified Instructor for Real Estate Brokers Institute (rebi). He is also a Course Facilitator/ Instructor for the Real Estate Buyer's Agent Council (REBAC) and Women's Council of REALTORS® (WCR).
Robert has taught personalized courses to thousands of REALTORS® across the country and is committed to helping REALTORS® become more knowledgeable in all facets of the real estate industry. Robert currently instructs REALTORS® in a variety of areas ranging from business planning, brokerage management, leadership management, diversity, professional standards, fair housing, goal-setting, time management and real estate ethics. He is committed to raising the bar and making a positive difference in the lives of every person he meets.
Tennessee REALTORS® Leadership Role:
As 2023 Division 2 Vice-President, Robert is available to update Local Associations and other audiences on timely real estate topics from a statewide perspective, provide information about member services and benefits and listen to any insights or ideas that could be shared at the state level.