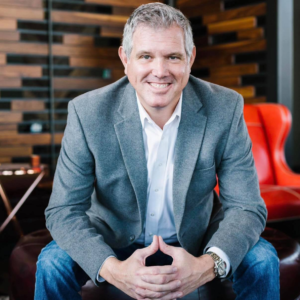 Geoff Ramsey
2024 Division 3 Vice President
Geoff Ramsey is the 2024 Division 3 Vice-President for Tennessee REALTORS®.
Since 1993, Geoff Ramsey has been a licensed real estate broker and REALTOR® in TN (Tennessee) and GA (Georgia). He holds the Certified Residential Specialist (CRS) and Graduate Realtor Institute (GRI) designations, and his real estate focuses include new construction, residential resale, land development, and commercial real estate. Greater Chattanooga REALTORS® awarded Geoff the prestigious 2014 REALTOR® of the Year Award for his service to the Association and in the community. As one of the top producers in the Greater Chattanooga market, it is no surprise that from 2014-2016, Geoff ranked in the top three of all RE/MAX agents in Tennessee. In 2021, Geoff moved his license to Real Estate Partners Chattanooga to challenge himself more and continue to grow in his real estate profession.  Geoff was elected to the Greater Chattanooga REALTORS® Board of Directors in 2015, serving as a two-year Director, followed by 2017 President-Elect and as 2018 President, followed by two more years as a Director. In addition to his local volunteer leadership, Geoff values the importance of being involved at the state and national levels. He participates regularly in the annual REALTOR® Day on the Hill in both Nashville and Washington, D.C. Also, Geoff has served on the Budget & Finance Committee, RPAC Trustees Committee, and as a Director for Tennessee REALTORS®.  His peers recently nominated Geoff at the state level as DVP (Division Vice President) of Region 3 (East Tennessee). Active in the community, Geoff often supports various sporting and charity events, including the Chattanooga Lookouts, Chattanooga Mocs, Chattanooga Football Club, CHI Memorial's Pink Gala, the Creative Discovery Museum's A-Museum, and Medal of Honor Heritage Center fundraisers. Geoff has been a proud sponsor of the St. Jude Dream Home Giveaway since 2012 and frequently volunteers with Habitat for Humanity of Greater Chattanooga Area and the Snack Packs for Kids program. Professional standards are extremely important to Geoff, and why he applied for this most recent position as Division Vice President for the Tennessee REALTORS®.  Geoff desires to help ensure that the standard of professionalism of the Realtor brand remains intact and truly means something, to raise awareness of how important REALTORS® are, to promote professionalism and solidify for consumers the value a REALTOR® brings to the transaction, and to help better serve and protect the property rights of our consumers.  We are a REALTOR® family.  That's Who We R.
Tennessee REALTORS® Leadership Role:
As 2024 Division 3 Vice-President, Geoff is available to update Local Associations and other audiences on timely real estate topics from a statewide perspective, provide information about member services and benefits and listen to any insights or ideas that could be shared at the state level.