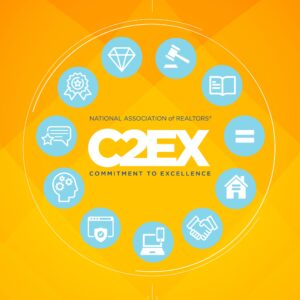 Commitment to Excellence (C2EX) is an NAR endorsement program available to all members.
To learn more about the endorsement and start or continue your own C2EX journey, visit HERE.
Tennessee Connections:
*Hagan Stone, our 2020 President, played a key role in working with NAR to develop and champion the C2EX program.
*Brian Copeland, our 2017 President (and 2019 NAR VP of Association Affairs), recorded a special video message about C2EX for NAR. View it on THIS PAGE or on YouTube HERE.
*Tennessee's staff team is fully C2EX-endorsed.
C2EX Ambassadors:
Regina Hubbard of Memphis and Ellis Gardner of Chattanooga serve as official NAR C2EX Ambassadors for Tennessee. This dynamic duo is available to speak/present about C2EX to TN firms/agents and local REALTOR® associations. To request a presentation, visit HERE.
C2EX Broker Endorsement:
Brokerages in Tennessee may achieve C2EX firm endorsement status from NAR. Learn more about that HERE. The firms in our state that hold this distinction to date are:
Fast Track Realty (Memphis)
Captain and Co. (Memphis)