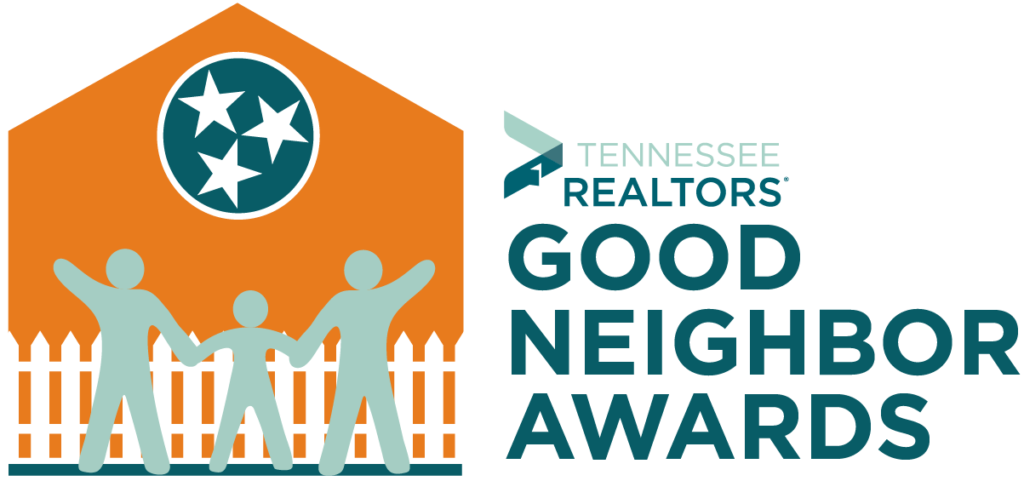 The Tennessee REALTORS® Good Neighbor Award recognizes members who make an exceptional contribution to their community through volunteer work. Presented annually, the award is designed to celebrate the honoree's contributions, to inspire fellow REALTORS® in their own volunteer engagement, and to highlight the many positive ways our members are helping to make Tennessee stronger and more livable.
The nomination deadline for 2022 will be Monday, Jan. 16, 2023.
Nominees must be members in good standing of the National Association of REALTORS® and Tennessee REALTORS® and have primary membership with a local association of REALTORS® in Tennessee.
Nominees must be active practitioners as certified by their Principal/Managing Broker.
Nominees will be judged on the level of personal contribution, especially volunteer (unpaid) hours, though contributions of money and other resources will be considered as well.
Some portion of the nominee's work must have taken place within the 12 months prior to the nomination deadline.
This award is intended to recognize individuals, not associations or companies. If an individual within your association of company can be singled out as instrumental to the success of a group effort, he or she is eligible. If the achievements of two people (such as a married couple or co-founders of an organization) cannot be separated, they can enter as a pair and their entry will be considered as one.
REALTORS® may nominate themselves or may be nominated by another REALTOR®, a state or local association executive, or the organization they serve.
Tennessee REALTORS® staff and their families, current selection-committee members, sponsors/sponsor employees and their families are ineligible to participate.
Award finalists must sign an affidavit of eligibility, submit to a criminal history check, and be willing to be interviewed, photographed, filmed, and nominated for the National Association of REALTORS® Good Neighbor Award.
Any award monies will only be granted to 501(c)(3) nonprofit organizations deemed by Tennessee REALTORS® to benefit the livability of a Tennessee community or communities.
Tennessee REALTORS® staff and selection-committee members will not accept lobbying efforts on a behalf of nominees.