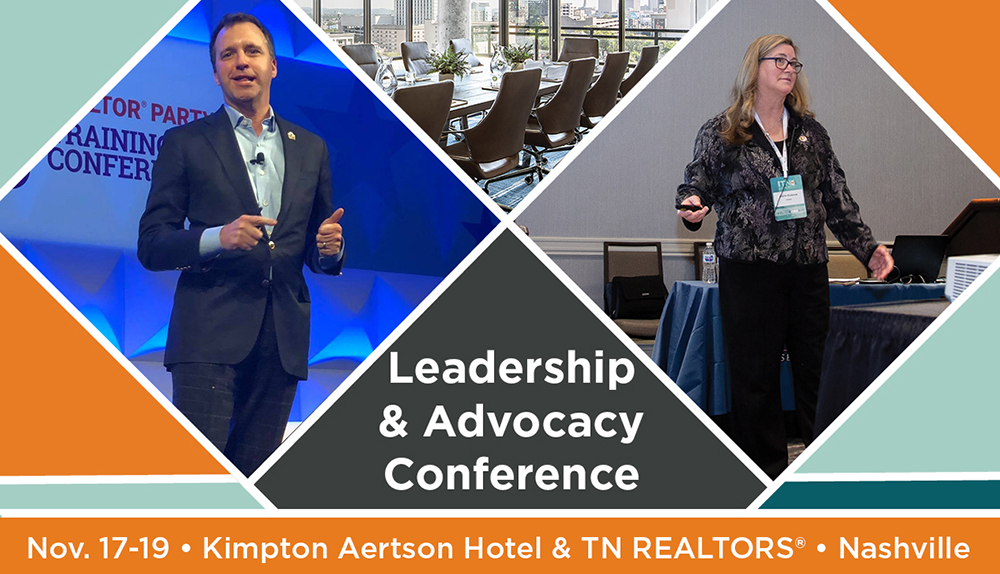 Dates: Sunday, Nov. 17 – Tuesday, Nov. 19, 2019
Place: Kimpton Aertson Hotel (2021 Broadway) + Tennessee REALTORS® (901 19th Ave. S.)
Lodging:  BOOK YOUR AERTSON ROOM ONLINE HERE or call 877-239-2269 and request "Tennessee REALTORS® Leadership & Advocacy Room Block"

Event Sessions:
Sunday, Nov. 17
2020 TN Local Presidents & AEs Training (Tennessee REALTORS®)
11 am – 5 pm Central
AGENDA
RPAC/Advocacy Reception (Aertson, 17th Floor)
6-7 pm Central
Monday, Nov. 18
Advocacy Training (Aertson, Patterson Ballroom) for Local AEs + 4 designees per Association
8:30 am – 2:30 pm Central
RPAC Trustees Training (Aertson, Adams Room)
2:45 – 3:30 p.m. Central
Tuesday, Nov. 19
2020 Chair/Vice Chair Training for State-level committee leaders only (Tennessee REALTORS®)
8:30 am – 2:00 pm Central
AGENDA
Parking:
Advocacy Training on Monday, Nov. 18: Complimentary self-parking will be provided at the Kimpton Aertson Hotel. Please park in the lot connected to the hotel, on the corner of 21st and Broadway (beside Caviar & Bananas and Nada). *Pick up your complimentary parking voucher at the Tennessee REALTORS® help desk on the 8th floor when you arrive. Thanks to RPAC and the trustees for providing the complimentary self-parking!
In addition, valet parking is available at the Aertson's Porte cochere for $35/day (includes leave & return privileges).
President/AE/Chair/Vice Chair Trainings on Sunday, Nov. 17 and Monday, Nov. 19: Park in our Tennessee REALTORS® lot or in The Morris parking garage on 19th Street (and bring your parking ticket to our office for validation).