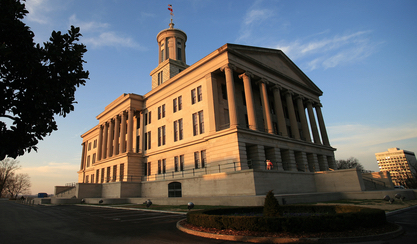 To Register for Day on the Hill (FREE), please register and pay first for the 2020 Tennessee Excel Summit (TNEX), and then check the box marked Day on the Hill. If you only wish to attend Day on the Hill and not TNEX, go to the same link but select "Business Meetings Only", a free option under TNEX. After registering at no cost, then check the Day on the Hill box.
Register for TNEX and/or Day on the Hill
Key Issues/Talking Points Brochure
Tell others about Tennessee Day on the Hill—and share your photos/posts on the day itself by tagging #TNREALTORDay20
Date:
Wednesday, February 5, 2020
Location:
Hilton Nashville Downtown (121 4th Ave. S.) and Cordell Hull State Office Building (425 5th Ave. N.)
Day Prior:
Day on the Hill Briefing featuring state legislators, for TNEX 2020 attendees, Tuesday, Feb. 4, 10:45-11:45 am (Hilton – Boone/Crockett)
Wednesday schedule:
7:30 – 9:30 am – Registration / Breakfast (Hilton lobby).
8 am – Shuttle buses begin running from Hilton to Cordell Hull
8:30 am – Group photo (Hilton lobby)
~9 am – 1 pm – Legislator meetings (Cordell Hull)
1:30 pm – Last bus leaves Cordell Hull for Hilton
Lunch:
On your own (not provided this year). U~Kno Cafe is available within the Cordell Hull building. In addition, HERE is a list of nearby restaurants.
Parking:
Available for $8/day at Hilton Nashville Downtown. Shuttles will run between the Hilton Hotel and the Cordell Hull building starting at 8 am until 1:30 pm.
Attire:
Business casual. Men please plan to wear a button down if you would like to wear the tie you will be given as a gift.
* Local AEs/Staff will set up meetings with respective state legislators and share the schedule with local members leading up to Tennessee Day on the Hill.