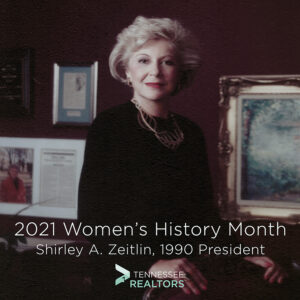 As we celebrate #WomensHistoryMonth in March, we shine a light on our association's first female president, Shirley A. Zeitlin of Nashville, who served in 1990.
Since that year, another 12 women have held the top post:
Greta Thompson, 1994
Patsy Ferguson, 1999
Liz Kemp, 2002
Lois Killebrew, 2004
Sandra Gilley, 2005
Rosemarie Fair, 2006
Jewell McKinney, 2007
Fontaine Taylor, 2009
B.J. Swinehart, 2010
Sue Stinson-Turner, 2012
Pat Beech, 2015
Kathy Tucker, 2019
We salute all of these outstanding volunteer leaders.
See the full honor roll of our Past Presidents HERE.